Grinder Knives For All Brand Name Grinders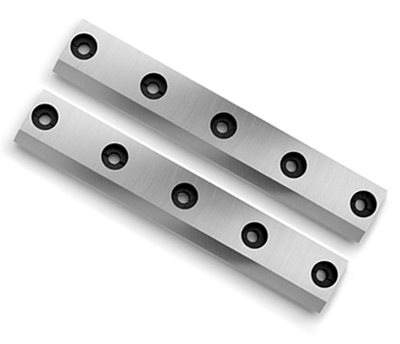 Services For Plastics, Inc. (SFP) manufacturers a complete line of new OEM style replacement EPIC Sharp® Grinder rotor and bed knives for the plastics processing industry using wear resistant D-2 steel. SFP is in the unique position of making OEM style knives better than stock, we offer high wear coatings for those applications that require longer lasting knives. We can adjust the edge bevel to suit your specific application. Select from, High Shear, Keen Edge, Reverse Bevel or the less common, Hook Knife, knife edge geometry.
We manufacture knives for AEC, Ball & Jewell, Conair, Cumberland, Foremost, Gloucester, Granutec, Nelmor, MPG, Rapid, Rotogran, Polymer and Wortex to name a few. We can even reverse engineer knives from unknown manufacturers. If you aren't sure what it is, send us your knives and we'll quote you on a replacement blade.
All of the grinder knives offered by SFP, are manufactured from high quality tool steel, in order to ensure long blade life when granulating even the toughest plastic materials. SFP grinder knives are designed and manufactured to exceed OEM specifications. All knives are match ground per set to ensure precision fit, precise cutting and increased longevity.
In addition we specialize in grinder blade sharpening, which is a significant cost savings option over new knives. We sharpen knives from all grinder manufacturers including: bed knives, rotating fly knives, and segmented knives. After using our knives, you will see and understand the difference. Don't worry, if your knives are beyond their useful life, we will not waste your money by attempting to resharpen them, we'll recommend cost effective replacement grinder knives. Contact us today for a free quote.